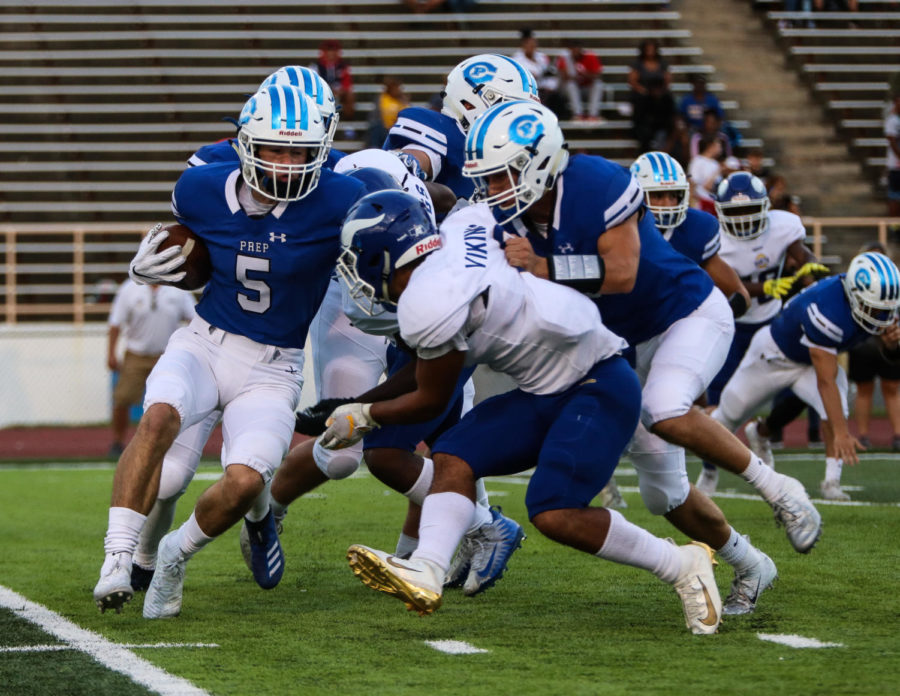 CREIGHTON PREP
With less than a minute left, Creighton Prep was on the ropes.  
 "I never thought we were going to lose," head coach Tim Johnk said.
After clawing back into the game to tie it at 21, Prep's offense had watched as the Omaha North Vikings had driven all the way down to the Junior Jays 11 yard line.  
Then Alex Bullock stepped in.  
Bullock intercepted a ball intended for Marques Sigle in the end zone to cut off the scoring threat.  The game was sent into overtime with the coaches believing the Jays could get one more stop.  
They got one on the goal line.
Prep kicker Pat Foley was sent out to kick his first field goal of the season.  It was center cut, and the Junior Jays got the win in a tremendous game.  
The game between #8 Omaha North and #10 Creighton Prep opened with a lot of hype and a lot of defense.  Prep's defense got a key stop (the first of many) when Joe Boulay, the senior captain, picked off a pass and took it 78 yards to the house to open the scoring.  North managed to respond later in the first quarter when running back LaVaughan Luellen plowed in from 8 yards out.  
Omaha North's Treon Fairgood-Jones scored early in the 2nd quarter, and it was 14-7 at half.  In the 3rd quarter, Brayden Woodward, Prep's backup QB, answered with a score of his own, but Fairgood-Jones scored yet again.
Late in the 4th, starting QB John Coniglio threw to senior receiver Mason Armstead for a 6 yard touchdown to tie the game.  The Vikings then milked the clock down to just 25 seconds when Hagan dropped back to throw the fade route to Sigle in the end zone, effectively ending the fourth quarter.  
In high school overtime, both teams get four downs from the 10.  On 4th and 2, North handed to Fairgood-Jones for the 26th time. 
This time, the Junior Jays were ready.  
Fairgood-Jones was gang-tackled a yard short, and 2 plays later, Johnk sent out Foley.
In a terrific win for Prep, there were many heroes.  Johnk said that "both our quarterbacks, they're very capable guys, very capable, both made good plays" and that "this team cares so much for each other that…they can do whatever they want; they can go wherever they want to go".  He also had good things to say about "our best corner, Alex Bullock, who made a terrific play." Joe Boulay said that "heart was the only reason we won…I think it was all that we had in the 5th quarter (overtime)". Both coach and captain were overall very excited about what the team showed.
The Prep offense was shaky but good, and the defense bent, but never broke, and didn't allow a score in the 4th quarter or overtime.  
Tonight, Creighton Prep will travel to 1-0 Omaha Central (53-2 win over Omaha Benson) while North will welcome 0-1 Omaha Northwest (42-6 loss to Omaha South).