School Spirit Gets a Boost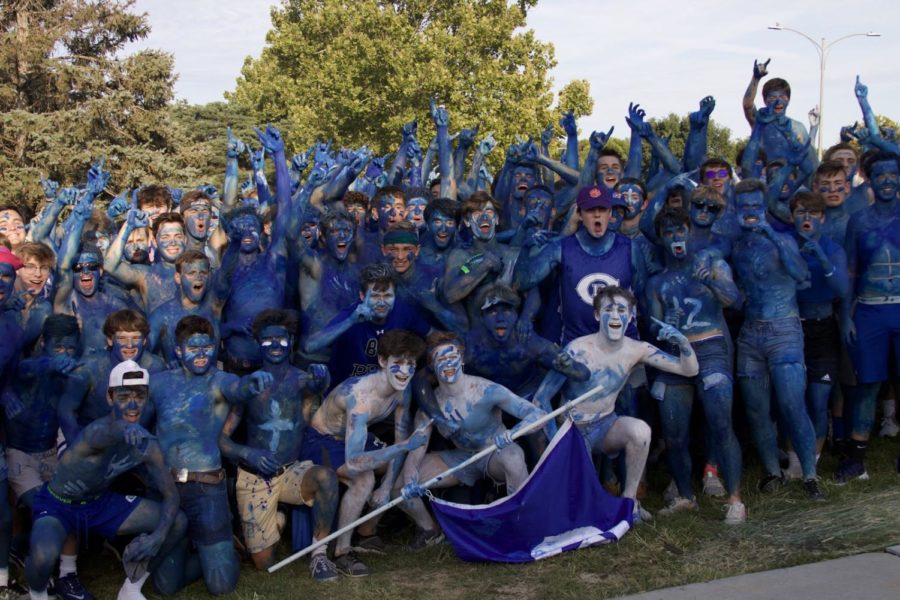 John Wear and Ben Bernier
October 31, 2019
This year, the students of Creighton Prep have noticed a rise in school spirit. Mr. Dan Kennedy, SJ, Mrs. Sara Smith, and Ms. Madeleine Morelli – a sort of school spirit dream team – are working to revive the school spirit at Creighton Prep.
By doing this, they are helping students feel more involved with Prep, as well as boosting overall morale at school.  Kennedy feels that school spirit is a very important part of high school life.
"The spirit of the school, and student body's a very formative part of the Pprep experience," Kennedy said. "It makes them feel included, more excited to be at Prep, and it is something that adds to their Prep experience by developing friendships.," 
 Kennedy also feels that the overall spirit at school this year has improved greatly from the years past. 
"Two years ago it was just me working with student council, and now we're up to four adults working with student council," Kennedy said. "So naturally our output in terms of events, and ability to capitalize on the creativity of students has increased immensely."
   Smith feels that a big part of having school spirit, is showing up to games, and participating in the student section themes.
"Dress themes at games create some excitement around the game and encourage people to come," Smith said.
Smith feels strongly that a loud, and big birdcage helps Prep's team feel more confident. 
"The football coaches and some of the football players have said that this year, at the Millard North game, the birdcage was totally loud. They were like, oh my gosh, we heard you guys, and you were so loud It was crazy. Even The coaches, and the players thought that the birdcage was definitely a big factor," Smith said.
Prep is the first high school in the nation to partner up with a company called Fan Consulting. This is a company that goes across the country dedicated to helping schools develop student sections, and school spirit.
"We need to teach underclassmen to stay in the cage throughout the whole game, and to have them come to hang out with your friends," Smith said.
There will be new themes for the Creighton Prep Birdcage at basketball games this upcoming year.
"We have new designs for the birdcage in terms of the banner looking different, a new design for billy blue jay, but also we are working on more creative ways to get sophomores and freshmen to go to the games," Ms. Morelli said.
Morelli feels very strongly that the spirit of the school is a big factor the boosts students moral.
"We want people to be excited about the school again, and make events as awesome as we can," Morelli said.