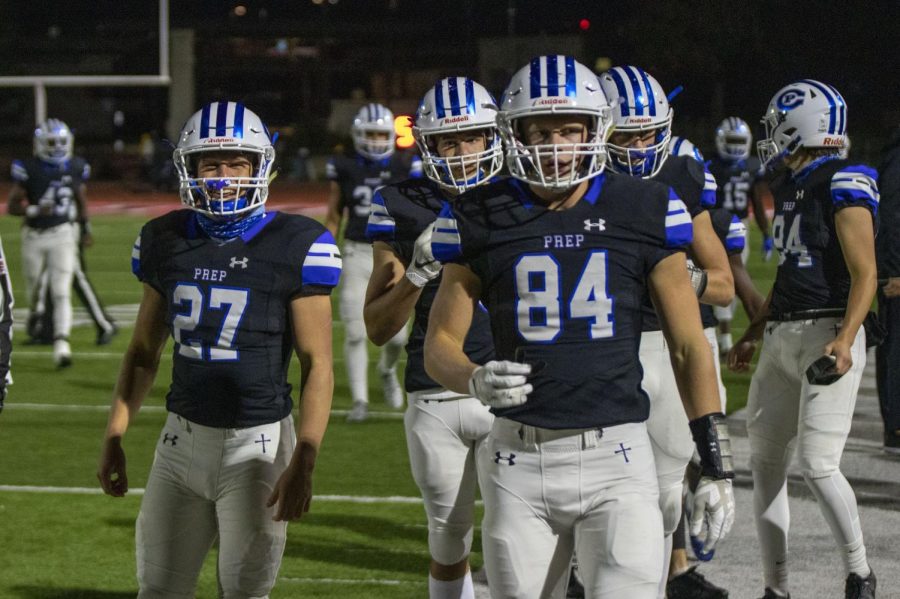 It's still playoff time for the sixth-ranked Creighton Prep Junior Jays (6-2), and this week they'll face their toughest test since the Westside game.  Third-ranked Millard South (7-1) has been dominating the competition since October started, and last week asserted themselves over Millard West, 21-7.  Prep, meanwhile, comes off an impressive victory over Millard North, 28-17, but to move to the semifinals, they'll have to beat their third opponent from Millard this year.  
Millard South has consistently been the third best team in Class A this year.  Thanks to an efficient game by senior quarterback TJ Urban, they were able to survive Elkhorn South in early September, but since losing to Bellevue West two weeks later, they've been almost unstoppable.  Against teams that are not Elkhorn South or Bellevue West, their average scoring margin is 39-6.  They've only played two top-five teams, but they have been nothing short of spectacular in their other games.  
The Patriots' offense has been led by Urban all year.  He's thrown for 656 yards and 7 touchdowns and ran for 745 yards and 11 touchdowns, and has been hyper-efficient while doing so.  Urban isn't the only guy to watch out for, though, as 3 of his teammates have over 240 rushing yards.  The lead back is junior Christian Nash, who has rushed for 281 yards and 6 touchdowns, while averaging a staggering 8.3 yards per carry.  The leading receiver is another junior, Antrell Taylor, who has 246 receptions and a touchdown.  This offense is very deep, as Urban's backup Gage Stenger has over 150 yards passing, rushing, and receiving.  
The defense is anchored by senior middle linebacker Tate Hinrichs, who leads the team this year with 86 tackles.  Hinrichs also leads the team in tackles for loss with 5.5, and his fellow linebacker, junior Gage Mack, isn't too far behind with 62 tackles and 5 for loss.  The defense as a whole has been incredible, forcing 11 turnovers and garnering 21 sacks.  Add senior kicker Cole Lammel (missed 1 PAT all year), and this is the best all-around team Prep has played since Westside.  
Prep, meanwhile, is on a hot streak likely unmatched by any team left standing.  Since the Millard West game, they still have not won by less than 10, and both the offense and defense have been playing lights out.  Against a very solid Millard North team, they forced 6 punts and a turnover, controlling the game wire-to-wire.  This is the best I've seen Prep football play since I've been here, and it looks like they have another level to hit.
Quarterback Sam Meysenburg, of course, is the team leader and the reason this offense has been so good.  He had perhaps his best game of the season against Millard North, throwing for 3 touchdowns on just 15 passes.  Two of those touchdowns went to senior Alex Bullock, who continued his season-long hot streak with 77 yards, and 3 tackles.  Meanwhile, junior Jack Stessman continued to assert himself as the lead back, with 14 carries for 84 yards and a touchdown.  
The real star of the game, though, was the defense.  With 6 tackles for loss and the aforementioned turnover, they made life miserable for Mustangs quarterback Jimmy Quaintance.  Joey Glogowski stepped up for the team, with 8 total tackles and 4 of those coming for loss.  It seemed like he was in the backfield every play, and if the runner somehow got past him, then either co-captain Tony Militti (8 tackles) or Michael Barrett (6 tackles) were normally there.  Kicker Pat Foley had another routine game, averaging 42 yards a punt and kicking perfectly on extra points.  
This game could be a playoff classic the likes of which Prep fans haven't seen since the second round game against Omaha Central in 2014, a 30-27 Junior Jays victory.  Neither team appears to have a clear edge in any statistical category, from quarterback to kicker.  Ordinarily I would have no qualms about going with Millard South, but something about a 21-7 game against Millard West (and the hot streak the Junior Jays are on) gives me pause.  For one of the first times in Pre-Cap history, I'm genuinely not sure how the game will turn out.  I'll give it my best guess, though.  
I predict another close game against a team from Millard.  TJ Urban has even more help than Jimmy Quaintance did, and Urban isn't an ordinary option quarterback-he's committed to Air Force.  Prep is going up against a team that averages 350 yards and 34 points per game, and yet I like the Junior Jays' chances.  It will come down to whether the Prep defense can get one final stop, and based on what I've seen from them the last month or so, I think they can.
My final prediction is Creighton Prep 24-21.  
*************
Playoff History
Record: 2-2
First Game: 2000, 55-0 Prep
Most Recent Game: 2010, 21-14 Millard South
Biggest Win (Prep): 2000, 55 points
Biggest Loss (Prep): 2008, 24 points
Scoring Margin: 79-52, Prep (19.75-13)