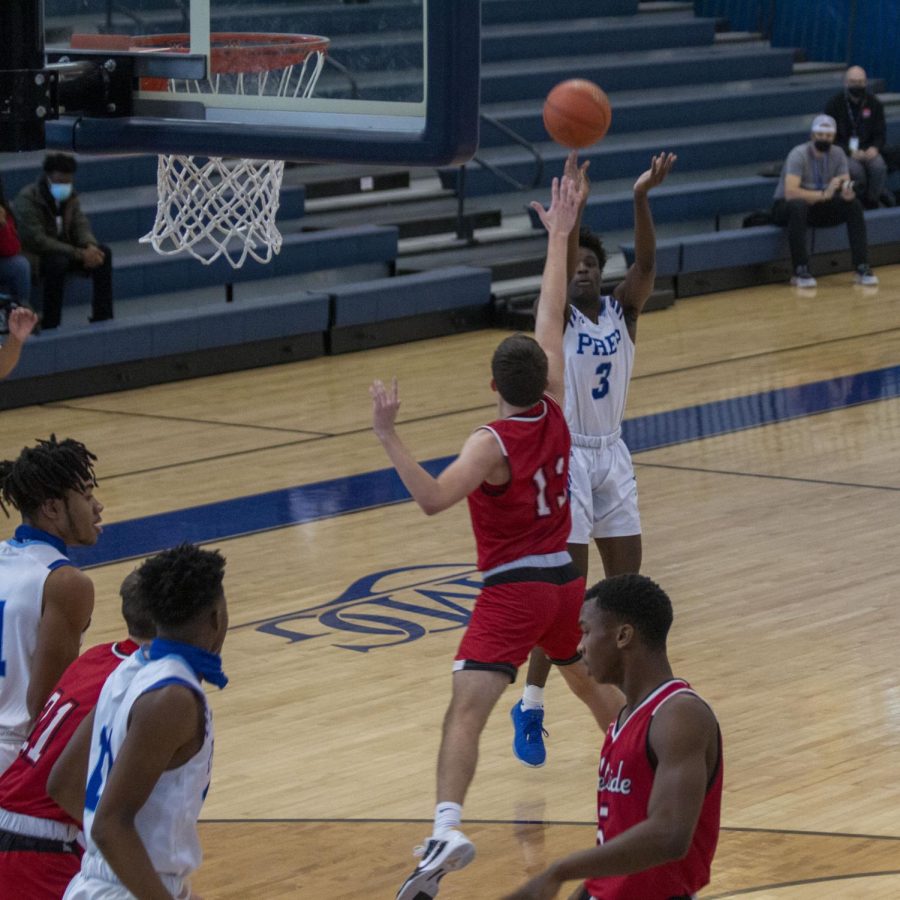 It has been quite a week for the #3 Creighton Prep Junior Jays (14-1).  After coach Josh Luedtke tied the school's all time wins record at 341 against Fremont on January 16, he needed just one win to seal the deal as very likely the greatest basketball coach in school history. 
Despite the Junior Jays playing 2 top 10 teams in the climb to win #342, there appeared to be no problems getting there.  After the smoke (and foot of snow) cleared, Prep walked away with 2 wins and an even firmer grip on that number 3 spot in the Omaha World Herald rankings, right as they head into their toughest home game of the season.  
It was all too fitting that Luedtke's first chance to break the record would come against #8 Omaha Westside, a team that has seemed to be on a different level than Prep in football and basketball over the past few years, notably ending Spencer Schomers' high school career last year by forcing Prep out in the first round of the state playoffs.  However, the team was well aware of the history at stake for their head coach, and very quickly ensured that there would be no stress in getting to that mark.  Prep started the game with a 13-2 first frame which helped lead to a 30-13 halftime lead, and from there it was all smooth sailing to a surprisingly dominant 62-39 victory.
As one might expect, the best part of this game was the defense, led all game long by senior guard Justin Sitti.  Sitti was all over the court and seemed to come up with every loose ball, garnering 8 rebounds, 2 steals, 2 blocks, and an incredible 5 deflections.  The rest of the team was also flying around the court, winning the rebounding battle 41-28, 7 of which were offensive rebounds to senior AJ Rollins.  The shooting was tough for both teams all day (Prep shot 41%, Westside shot 30%), but Brendan Buckley paced the team with 13 points, Mai'Jhe Wiley added 10, and Rollins and junior reserve Casey O'Malley added 8.  
The next Junior Jay game was another Top 10 matchup, this time against #9 Papillion South.  While it was delayed a day due to the heavy snowfall in Nebraska, the competitive fire on defense wasn't slowed at all.  Prep opened the game playing like a team on a mission to make the Titans' lives miserable, and they did, holding them to 14 first half points and taking an 8-point lead into the halftime break.  
From there, the offense came out in the third quarter and seemingly couldn't miss, scoring 28 points in the third frame alone, 18 of which came from Sitti or Luke Jungers.  The team did get a bit complacent with a 21 point lead, and at one point the Titans got within 7, but Prep made its free throws to pull away for a comfortable win, 66-54.  
Excluding the 4th quarter, the defense had one of its best performances of the year, and that's saying something after the Westside game.  The Junior Jays forced 20 turnovers, 14 of which came from Papillion South's great trio of Daniel Brocaille, Graham Cassoutt, and Danair Dempsey.  Brocaille did manage a double double with 18 points and 11 rebounds, but 12 of those points came in the second half.  Dempsey managed 12 points and 8 rebounds, but was outplayed by his Junior Jay counterpart in Rollins, who scored 14 points and seemingly couldn't miss.  Sitti had 13 points, and after no scoring in the first half, Luke Jungers took over, scoring 14 points over the second half to help lead the Prep offensive explosion.  For the Titans, Josiah Beckenhauer added 12, as did Cassoutt, but the vast majority of those points came in the second half with the game well in hand for Prep.  
Coming up for the Junior Jays is the only team that has beaten them this year and who just happens to have a guy averaging 22 points a game (4th in Class A). He isn't considered to be the best player on his own team.  That scorer is Frankie Fidler, but his counterpart, Wisconsin commit Chucky Hepburn, has decided to have a characteristically good year for himself, with averages of 16.4 points (14th), 4.6 rebounds, 9.2 assists (first), 54% FG (19th), and 4.2 steals (first).  The lone major stats where Bellevue West does not have a top-5 player are rebounds, 3PT%, and FG%.  However, with Hepburn and Fidler leading the way, and with all the help they've got behind them, 
The Thunderbirds appear to be in no trouble when it comes to defending their state title.  They're top 10 as a team in points, rebounds, FG%, 3PT%, assists, steals, and blocks (top 2 in steals, assists, and points).  This team has only lost once, in a double overtime classic to Saint Thomas and #1 undefeated Millard North, and Prep is the only other team from Nebraska to keep the game within single digits.  The Thunderbirds appear to have absolutely no weaknesses (aside from 48 points by Thomas in that aforementioned loss), and it showed against Prep in their game earlier this year.  
In that game, Prep shot 49% from the field, 38% from 3, 19-28 from the free throw line, forced 11 turnovers, and won the rebounding battle.  Justin Sitti scored a career-high 21 points, Brendan Buckley had 17, and Luke Jungers added 8.  Prep still lost by 9, mainly due to the fact that Frankie Fidler was almost unguardable that game.  Fidler poured in 30 points on 20 shots, a lot of which came off passes from Hepburn, who had a typical stat line of 12, 10 assists, 3 rebounds, and 5 steals.  While the Prep defense has improved since then, Bellevue West is inarguably the second best team in the state and could drop 80 points or hold their opponent to 30 on any given night.  It's a Saturday night game, and it will definitively prove how legitimate Prep's title aspirations are.
Upcoming Schedule: Prep plays against Bellevue West on Saturday, January 30 and against Papillion-La Vista on Tuesday, February 2.