Preisman Pre-Cap: Omaha Northwest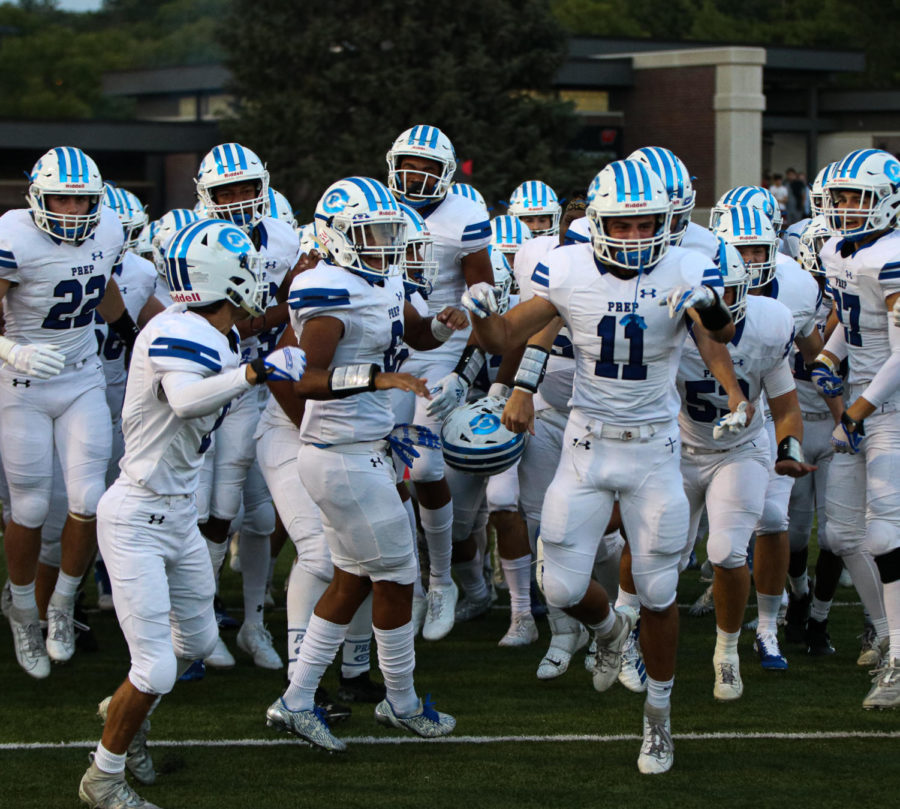 Brendan Preisman, Jay Journal Sports
October 11, 2019
The #10 Creighton Prep Junior Jays (5-1, 1-1 in district, last game: 16-14 W at Columbus) begin ramping up for their tough season-ending schedule against Omaha Northwest (1-5, 0-2 in district, last game: 77-6 L at #6 Omaha Westside). Last year the Junior Jays walloped the Huskies, 43-3. This is what to watch for:
Besides Westside, Northwest has played just one top 10 team on its schedule so far. After losing 5 straight to end last season, it looks like another losing season for the Huskies. However, there are quite a few good players on this team that are going to be difficult to stop on Friday.
The Huskies' offense is led by sophomore quarterback Isaiah Forte-Williams. On the season, he has 284 passing yards on 31-66 passing and 2 TDs to 5 INTs. He also has 2 TDs in the ground game as well.
Forte-Williams has lots of help from Aliziah Wraggs-Mcmorris, the senior running back. He has 98 carries for 571 yards and 2 TDs. He has gotten his touches in the passing game as well, with 5 catches for 37 yards. The team's leading receiver is senior Jace Cooper Jr., who has 11 catches for 158 yards.
Last week the Junior Jays won at the final gun thanks to a touchdown catch from senior wide receiver Mason Armstead to give them a 16-14 lead. Prep is currently sitting at third in the district, and is looking like a solid playoff team thanks to a solid defense and a terrific passing game. The Huskies will be the last unranked team on the schedule, so this game would be a great time for the Jays to get some consistency on offense.
Senior quarterback John Coniglio is looking like the guy to help bring that. So far he's thrown for 960 yards (160 per game) on 82-157 (52.3%). He's also thrown for 14 TDs and just 1 INT, and as demonstrated in multiple games this year, he is clutch. He's also got 222 yards and a rushing TD on 59 carries.
The team's leading rusher, however, is junior running back Vinny Cacioppo. Cacioppo, despite just 55 carries, has gained 347 yards on the ground this season. He's also got just 1 TD, but that shows how good Coniglio has been more than how good the running game is.
Armstead, however, is the team's undisputed offensive leader. In just 6 games, he's hauled in 36 passes for 460 yards (76.7 yards a game) and 5 TDs. Armstead is a threat to break free every time he touches the ball, with 12.8 yards a catch. Coniglio can also throw to junior tight end AJ Rollins. Rollins has just 9 catches, but he's taken them for 137 yards (15.2 a catch) and 2 touchdowns. Prep's potent passing offense should show up again on Friday night.
Creighton Prep has had a tough time this season against what were, on paper, teams that were – on paper – inferior to them. However, 4 of Prep's 5 wins are by single digits, and all of them were decided by a touchdown or less. Prep has been massively clutch so far this season, but against teams where they shouldn't have had to be.
Prep's defense has showed up so far this year, allowing under 23 points a game. That's not a good sign for Northwest, who are averaging just over 8 points a game. Prep is looking to improve their playoff seeding, while Northwest is just playing out the string. If Prep's defense can get some stops and the offense can sustain drives, this game will be over quickly.
Northwest hasn't come closer than 27 points in a loss this season, but that will change Friday night. They also haven't won a game on the road yet.
That will not change.
My final prediction is 17-7 Creighton Prep.