COVID 19 – How Did We Get Here?
Six Months In and Six Feet Apart: Looking Back at the Moments that Shaped Prep's Response to COVID-19
Though it's hard to believe, the COVID-19 pandemic has been impacting Creighton Prep for 6 months, and the road we've taken has been anything but a straight drive down Western Avenue. The Prep community has faced unprecedented challenges that have persisted from March all the way to September, and the light at the end of the tunnel is still to be determined. Many are asking what things will look like next year, next month, and even next week. But as we've asked questions and taken actions to address our present and future challenges, we've left behind quite the wild ride to look back on. With little idea as to where we're going, let's take a look at how we got here.
Friday, March 6: Final Day of 3rd Quarter
Even though no COVID-19 protocols are in place prior to Spring Break, the tension can be felt throughout Prep as cases pop up around the country. Science teachers split lecture time between chemistry and coronavirus, biology and beneficial hand-washing techniques. Meanwhile, rumors run wild among the students, who leave the building thinking they'll return on March 16 to begin 4th quarter. They will indeed be coming back, but for a very different reason and in a very different-looking world.
Wednesday, March 11: NSAA Limits Attendance for State Basketball Tournament 
Just nine days after willing the Junior Jays to a district title in basketball, Prep students learn that they won't be allowed to pack the Birdcage in Lincoln for the state tournament the next day. The NSAA limits attendance to players, coaches, and family members, calling it a decision "to protect the health and safety of the student athletes, their families and the public at large". This is the first domino to fall in terms of Prep-related COVID-19 restrictions and regulations.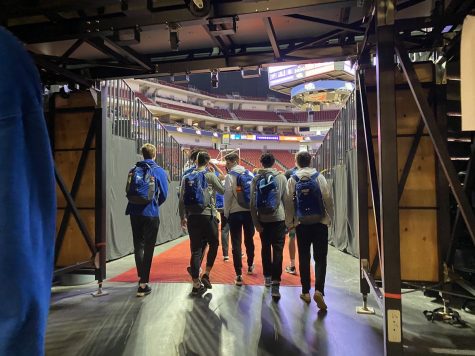 Thursday, March 12: Prep Campus Closes, Classes Transition to Online
The official announcement is made that Creighton Prep's campus is closed until further notice. In a follow-up email the next day, principal Jim Bopp outlines the plan for the beginning of online learning next week. Classes will begin on Thursday, March 19, with Wednesday being used as an orientation day for online learning. Moving forward, classes are set to run on each weekday with the exception of Wednesday, which will be set aside as "office hours" for teachers to answer student questions. Google Meet is first named as the app through which online learning will run, but the switch is made to Zoom a few days later.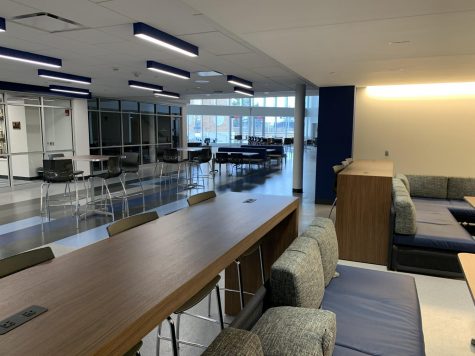 Monday, March 16: Students Allowed to Retrieve Belongings from Campus
On the day that was supposed to see students return to classes, they instead head to Prep one last time to gather their belongings. They are instructed to sanitize their hands upon entering the building, take all of their things, and leave without lingering or congregating in large groups. From this, students begin to suspect that school will be online for the remainder of the year, but nothing is official yet.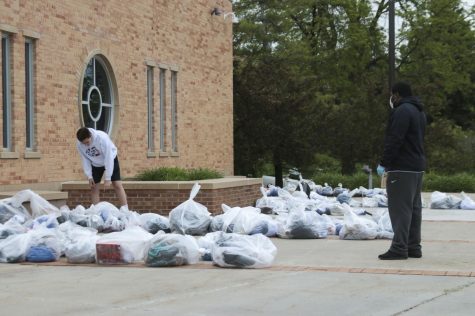 Thursday, March 19: Online Classes Officially Begin 
For the first time in its 142-year history, Creighton Prep begins a fully online academic schedule. In an email, President Fr. Tom Neitzke highlights many of the positives that came out of the first day, including strong participation and class interaction as well as no students earning a JUG. Fr. Neitzke says that he "could not be prouder of our faculty, staff, students and parents as Creighton Prep continues to work through the new challenges brought on by the COVID-19 outbreak". Members of the Prep community would need to get comfortable, as this would be their "new normal" for the next two months.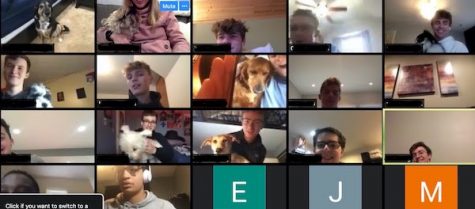 Monday, March 30: New Student Activities are Introduced 
After three weeks at a standstill, Prep student activities return in accordance with the ongoing quarantine. Prep Perfect trick shot challenge, E-Sports Intramurals, and dress down themes are introduced by Dan Kennedy, Director of Student Activities.
Thursday, April 2: Statewide School Closure Announced, NSAA Cancels Spring Sports
Nebraska Governor Pete Ricketts declares all schools closed until May 31, leaving Prep students at home for the remainder of the school year. Hours later, spring sports, which had already been delayed until May 1, are cancelled by the NSAA. This leaves Prep's track and field, soccer, golf, and baseball teams sidelined until 2021.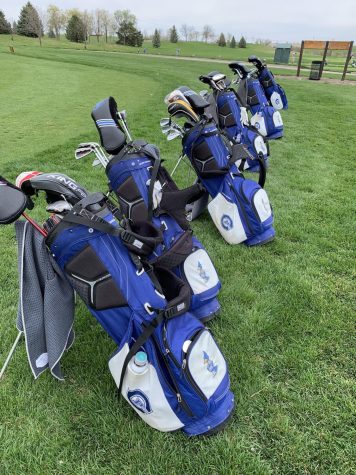 Saturday, April 25: BASH Event Held Virtually
Despite the unprecedented COVID-19 shutdown, Creighton Prep is still committed to keeping affordable tuition and providing financial assistance to students in need.  BASH, Prep's dinner auction and raffle to raise money for this commitment, takes place virtually for the first time. Raffle ticket purchases, auction bids, and donations can all be made online.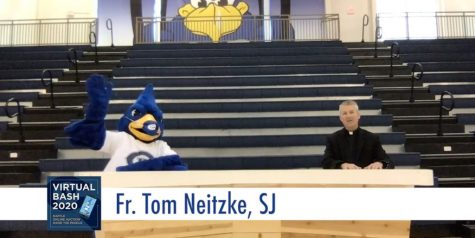 Friday, May 15: Final Day of Classes
After two historic months of online learning, Creighton Prep reaches the end of the 2019-20 school year. Fr. Neitzke and Dan Kennedy sign off on their final mass at Prep before their respective departures, while students and teachers sign off on the last of their zoom meetings. It isn't the way anybody wanted to end the school year, but there's no denying the strength and resilience of the Prep community after the challenges it has overcome just to get here.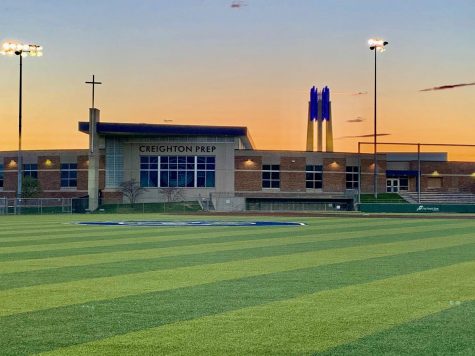 Tuesday, June 23: Initial 2020-21 Plan Announced
With the 2019-20 school year in the rearview mirror, the focus shifts toward next year.
Based on the current COVID-19 situation in Nebraska, Ricketts expects a return to in-person school in August, prompting an initial Pandemic Response Plan from Creighton Prep. Key points of this plan include in-person learning with masks being worn inside the building as well as the hiring of a full-time, onsite school nurse. Additionally, backup plans and schedules are being made for the potential of fully online or partially online learning. In an email, principal Jim Bopp tells the Prep community to "be assured that we will be prepared to offer all of our students an exceptional Jesuit educational experience next year, no matter the circumstances."
Friday, July 31: Class of 2020 Graduates
Two and a half months later than expected, the Class of 2020 finally receives its hard-earned and well-deserved recognition. Socially distanced and wearing masks, students receive their diplomas and close the book on a four-year journey at Prep that they never could have imagined.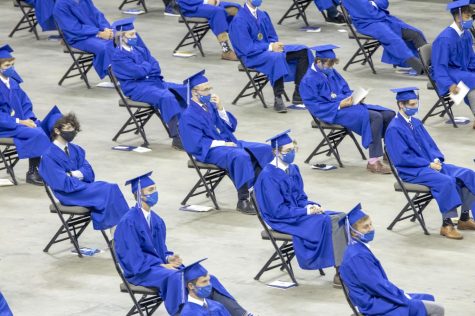 Tuesday, August 4: Prep Switches Back to Hybrid Learning Plan
Prior to this point, the plan is to have all students start the new school year with fully in-person classes. But just a couple of weeks before the beginning of the school year, the back-to-school format changes drastically. Following an uptick in COVID-19 transmission within Douglas County, Creighton Prep announces that they will return to school in a hybrid model. Instead of all students being in the building each day, half of the students, grouped by last name, will be on campus, while the other half will be learning remotely. 
Tuesday, August 18: New School Year Begins for All Students
For the first time in over 5 months, Prep students return to campus and start a new school year. Students with last names beginning with A-L have classes from 8:00-10:50, while those in the M-Z category attend from 11:55-2:45. Following these two days, Prep will enter its hybrid model, with half of the students leading on campus and the other half learning at home, alternating every 2 school days.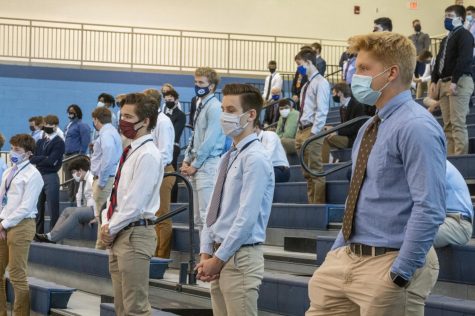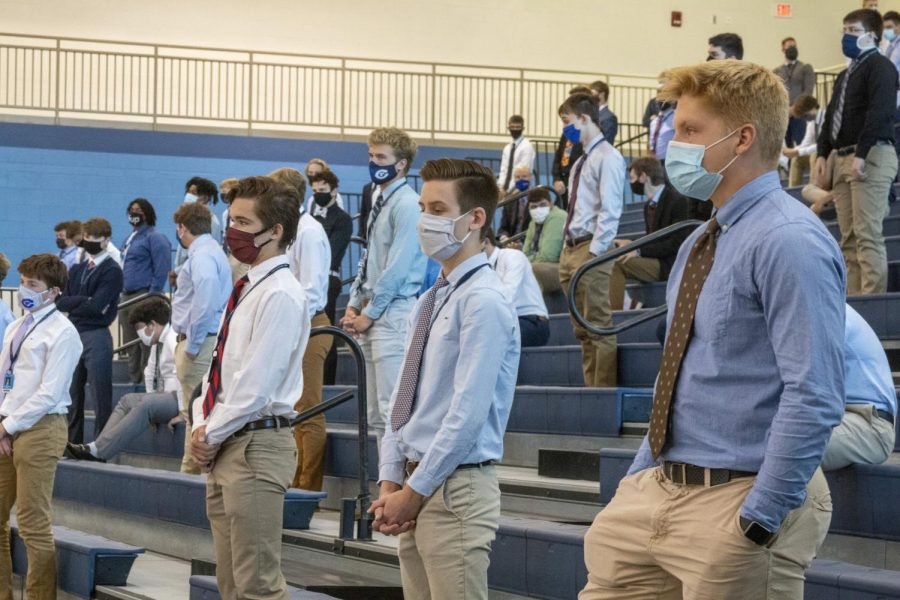 Saturday, September 5: Football Team Quarantined After Positive COVID-19 Test
The day after a hard-fought victory over Papillion-La Vista, the Creighton Prep football team takes a big hit. Due to a positive COVID-19 test, the whole team must quarantine for the next 10 days, wiping out their matchup with second-ranked Bellevue West.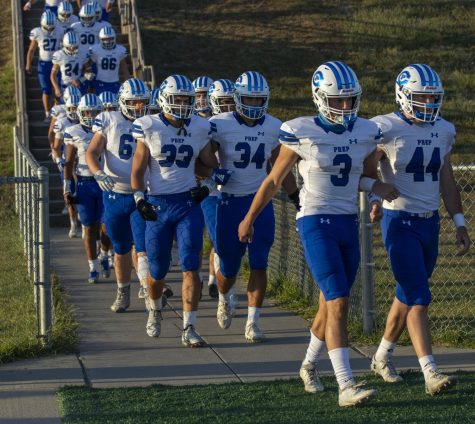 Tuesday, September 22: Return to Full In-Person School Announced
A month into the 2020-21 school year, Creighton Prep finally finds itself in a comfortable position to have all students back together for in-person learning. Freshmen are set to fully return first on September 28, while the other 3 grades will join them on October 12.
Friday, September 25: Seniors Allowed to Attend Football Game
After a month on the sidelines, seniors are permitted to attend high school football games. Fittingly, the first game for Creighton Prep after this adjustment is Senior Night against sixth-ranked Millard West, and the Jr. Jays do not disappoint. After trailing the Wildcats 26-0 early in the 4th quarter, Prep storms back with 29 unanswered points to win by a score of 29-26, making the largest comeback in school history.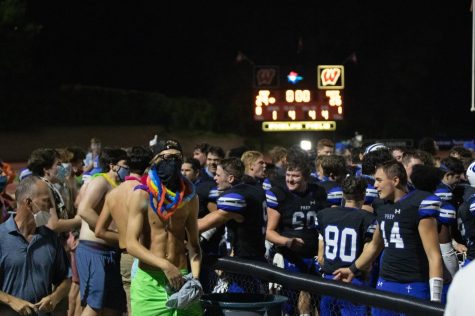 What a remarkable ride it's been, as the Creighton Prep community has faced unimaginable challenges through it all. Did they give up? Absolutely not. Did they confront the situation head-on and respond incredibly well? You bet. Nobody knows where we'll be 6 months from now when the 2020-21 school year nears its end, but one thing is for certain. The strength and resilience of the Prep community will undoubtedly triumph over any and all challenges.